How to get a permit for the Enchantments
The Enchantments is an extremely popular destination. To protect its natural beauty, the Forest Service restricts the number of visitors using a permit system. A permit is required to camp anywhere in the Enchantments from May 15 to October 31.
Lottery
Permits are awarded in a lottery. You can enter the lottery from February 15th to March 1st on the recreation.gov website. Winners are notified in March, at which point they're required to claim their permits on the website.
There is a $6 non-refundable fee to enter the lottery. If you win, you'll need to pay a recreation fee of $5/person/day when you claim your permit.
Zones
For the purposes of the permit lottery, the Forest Service divides the Enchantments into five zones. You'll have to choose which zone to request when you enter the permit lottery, and you'll only be permitted to camp in that zone.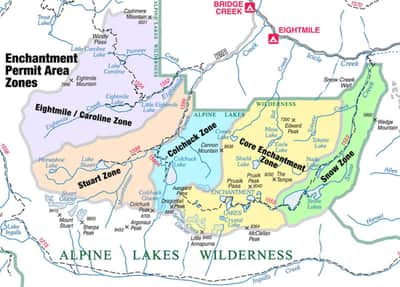 The Core Zone, in which the famous Enchantment Basin is located, is the most popular and the most difficult to get a permit for. The adjacent Snow Lakes Zone and Colchuck Lake Zone are also good options if you want to see the basin, since you can camp there and then day-hike into the Core Zone.
While they don't offer access to the Core Zone, the Stuart Zone and Eightmile/Caroline Zone are beautiful in their own right and permits to camp here are much easier to score.
Statistics
In 2019, there were a total of 24,614 permit applications. 2,060 permits were awarded. Here are the results broken down by zone:
| Zone | Applications | Permits awarded | Odds of winning |
| --- | --- | --- | --- |
| Core | 18,835 | 358 | 2% |
| Colchuck | 2,634 | 347 | 13% |
| Snow | 1,954 | 625 | 32% |
| Stuart | 882 | 442 | 50% |
| Eightmile/Caroline | 309 | 228 | 74% |
Applicants must choose a desired date of entry on their application. In 2020, the most popular months were July and August. The most popular day of the week to enter, by far, was Friday.
Tips
If you wish to see Enchantment Basin, you'll have much better odds of winning the lottery if you apply for a permit in either the Colchuck or Snow Zones and plan on day-hiking up to the basin (rather than applying to camp there). With a light pack and an early start, you can still spend virtually all day exploring the basin without actually needing to camp there.
Regardless of where you hope to camp, you'll improve your odds by applying for dates outside of the peak months (July and August). Check out our weather guide for an idea of what to expect at different times of year.
Similarly, you'll have better odds if you apply to enter on a less popular day of the week. Sunday to Wednesday are much less popular than Thursday, Friday or Saturday. Obviously, not everyone's work schedule can accomodate this, but if yours can, it's an excellent way to increase your lottery chances.